FIRM
Staff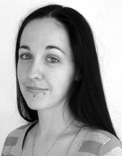 Nicole Ambrose
Architectural Designer
EXPERIENCE
Prior to attending Columbia's historic preservation program, Ms. Ambrose worked in the tax and accounting business for 10 years, familiarizing her with office management and financial software. While attending The Art Institute for interior design she held internships at a Sacramento-based interior design firm and a small specialty furniture manufacturer, learning how to specify furniture and materials in addition to creating drawings for the fabrication of custom pieces. During her undergraduate training she became familiar with space planning, computer and hand drafting, programming, meeting/applying building and ADA codes, creating specifications, and more.
Long interested in historic architecture and sustainable design, Ms. Ambrose's undergraduate thesis focused on how historic buildings could fit within the LEED certification system. Following the completion of her undergraduate degree Ms. Ambrose studied for and obtained a LEED GA credential. During her time at Columbia University she continued to pursue sustainable studies in the realm of historic preservation. For her master's thesis she researched how historic preservation could be used as a tool to further the goals of sustainable city projects that are emerging across the globe.
In her years with JHPA, Ms. Ambrose has played an integral part of several successful restoration projects. She has performed site surveys and conditions assessments identifying deficiencies and developing phased restoration plans at a variety of different sites including 111 W. 57th Street, a full-building restoration within New York City, and old Westbury Gardens, which included the select restoration of individual buildings that are part of an estate on Long Island.
Ms. Ambrose has also developed restoration drawings and specifications for multi-million dollar projects integrating masonry restoration, metals conservation/restoration, and carpentry restoration, including the Knickerbocker Club, 1780 Broadway, and the Church of St. Mary the Virgin Times Square. She has carried projects through construction oversight, including the every-day management and closeout of projects, which involves experience working closely with a variety of regulatory agencies such as the NYC Landmarks Preservation Commission.
EDUCATION
2013

M.S.

in Historic Preservation, Columbia University

2010

B.S.

in Interior Design, The Art Institute of Pittsburgh
QUALIFICATIONS