FIRM
Staff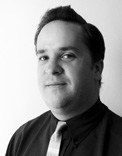 Kurt Hirschberg
Architectural Designer
EXPERIENCE
Kurt Hirschberg serves as an architectural designer with knowledge in architectural research, computer-aided design, preparation of construction documents, HABS/HAER documentation, materials conservation, preservation planning, photo documentation, and project management.
Mr. Hirschberg is an avid local preservationist in northern New Jersey. He is active with several local historical societies, dealing with museum preservation and management of historic facilities. He has organized several local history programs, workshops, and exhibits at the local level. In addition, Mr. Hirschberg serves on the Board of Trustees of Historic Speedwell in Morristown NJ, the birthplace of the electromagnetic telegraph. He has also served as commissioner with the Hanover Township Landmark Commission.
Since joining JHPA, Mr. Hirschberg has worked on several projects for the firm, producing schematic, design development, and construction documents for the Brooklyn Historical Society, The National Lighthouse Center and Museum, The Plainfield Railroad Station, The Merchant's House Museum, and Church of the Ascension.
While at Drew University in 1999, Mr. Hirschberg worked on the Historic Structure Report and preservation plan for Seminary Hall, a turn-of-the-century collegiate gothic building on campus that had fallen into disrepair.
In 1998 Mr. Hirschberg prepared NJ State and National Register Nominations as well as HABS/HAER documentation for the Illumination Gas Plant at the New Jersey State Asylum for the Insane at Morris Plains, NJ. This was a rare abandoned illumination coal gas plant of stone construction and unusual octagon shape constructed in 1876 from a design by Samuel Sloan.
EDUCATION
1999

Certificate in Historic Preservation, Drew University

1998

B. Architecture, New Jersey Institute of Technology