PROJECTS
Restoration
West 79th Street Maintenance Facility
New York NY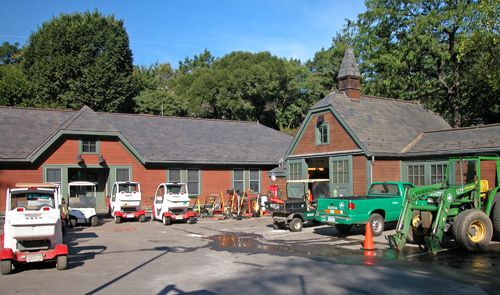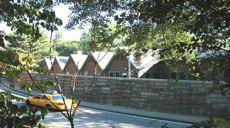 The Central Park Conservancy commissioned JHPA to enlarge this obsolete maintenance facility in Central Park. The facility had become physically inadequate and was considered a Park eyesore.
The maintenance building complex comprises two opposing c.a. 1900 shed (former stable) structures that were truncated and inappropriately altered in 1960. During construction of the 79th Street Transverse Road, a utilitarian locker room building was built on the site.
The site is constrained by surrounding roadways, paths, maintenance vehicles, significant changes in topography, and extensive mature vegetation. In addition, the poor bearing capacity of the soil and landmark district status rendered vertical expansion inappropriate.
JHPA's design removed the 1960 structure to its foundation and expanded the site into the immediate surroundings, nearly doubling the facility's floor area. The new one-story structure containing offices, training rooms, and lockers physically links the three buildings under a common roof while making reference to other historic architecture within the park. The reconstructed facility includes slate-shingle roofing and wood siding representative of the materials of the original shed structures.