PROJECTS
Conservation
St. George's Church
New York NY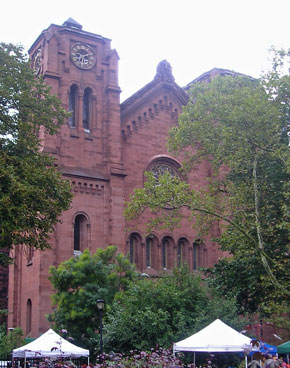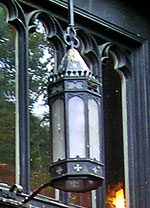 Originally a descendent of Trinity Parish, the Parish of Calvary/St. George's comprises St. George's Church, designed by Blesch and Eidlitz and completed in 1856 on Stuyvesant Square, and Calvary Church, constructed in on Park Avenue in 1848 from plans by James Renwick. Both church buildings were constructed of brownstone with roofs sheathed with Vermont slate.
JHPA completed existing condition assessments at both churches, and at the Pierce House, the Eidlitz designed Parish House at St. George's. Remedial roofing work was undertaken by JHPA, first at St. George's, then at Calvary Church's Jack and Jill School Building.
Remedial work at St.George's Church included restoration of several masonry buttresses, replication of decorative roof drainage elements, and stone masonry cleaning and repointing. In addition to exterior work at the church, it was necessary to carry out repairs to the hammer-beam roof support system within the sanctuary.
Remedial repairs at Calvary Church included flat roof repairs, skylight restoration and brick masonry repairs at the school building, as well as slate and roof drainage repairs at the Parish House.