PROJECTS
Restoration
Snug Harbor Cultural Center
Staten Island NY, 1990-94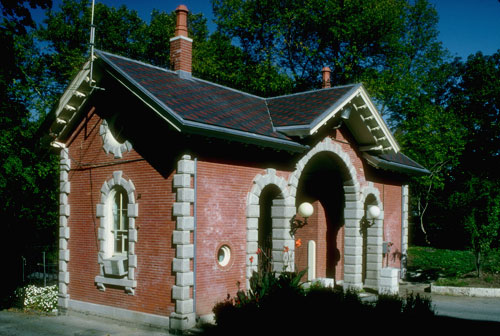 Sailor's Snug Harbor was established in 1833 as America's first charitable institution devoted to the care of retired seamen. When financial pressures forced Snug Harbor to relocate over a century later, the institution left behind a remarkable assemblage of Greek revival and Victorian buildings located on 130 verdant acres overlooking New York Harbor. The City of New York acquired the site in the 1970's and established the Snug Harbor Cultural Center, providing artists' studios, performance halls and exhibit spaces.
With many of Snug Harbor's buildings in disrepair, the city's Department of General Services commissioned JHPA to produce construction documents for the stabilization and restoration of ten of the most seriously deteriorated buildings, including the gatehouses and former staff quarters. Work entailed the restoration of exterior masonry, the replacement of slate roofs and the reconstruction of woodwork and cast iron cresting.
The development of the Snug Harbor Cultural Center is among the most ambitious adaptive reuse projects ever undertaken in the city. The buildings that our firm has restored will provide Snug Harbor with much needed retail, office and residential space, and help the Center become one of the city's premier cultural resources.