PROJECTS
Conservation
Schermerhorn Row Block
New York NY, 1977-84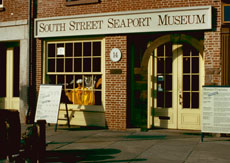 In the early 19th century, the counting houses on Manhattan's East River served as warehouse and distribution facilities for the array of imported goods that began to pour into a rapidly growing New York. These structures on Schermerhorn Row are among the few such buildings left from this significant era in New York's development.
Although neglected for decades, the buildings became the focus of efforts to revitalize the historic Seaport District. The New York State Office of Parks, Recreation and Historic Preservation retained JHPA to provide a master plan and design documents for the restoration and adaptive reuse of this block. The work included the stabilization of the buildings, carefully researched reconstruction of missing historic elements and installation of extensive mechanical systems. Our restoration design recaptures the dignified unity of the block but also retains significant 19th-century alterations that reflect developments in the Seaport's history.
The restored counting houses provide new commercial space and exhibit areas. The South Street Seaport District is now one of New York's premier attractions. Schermerhorn Row has become the historic architectural centerpiece of this redevelopment. The project received the prestigious Bard Award for excellence in design from the Municipal Arts Society.