FIRM
Staff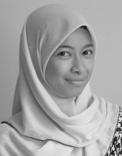 Raudhah Borhan
Architectural Designer
Raudhah received her architectural education in the United Kingdom and Malaysia. She has had the opportunity to work on diverse projects ranging from commercial developments, residential developments, and interiors, to the conservation and restoration of historic buildings.
Raudhah's architectural career started at Arkitek Maju Bina, where she was first exposed to the construction field. She produced design development and construction drawings for various high-end residential and high-rise developments, as well as for interior design in the Klang Valley. She also assisted in the project management of a luxurious residential development.
Raudhah went on to live and study in London, where she immersed herself in the rich architectural languages and styles of historic and contemporary buildings that make up the diverse urban fabric of the city. Upon completing her Masters in Architecture she returned to Malaysia and joined The Heritage of Malaysia Trust, a Non-Government that promotes the preservation and conservation of the Malaysian built heritage. She worked on various buildings listed in the Malaysian National Heritage Register List, as well as buildings within the core zones of the UNESCO World Heritage Site, Penang. Her job scope included undertaking historical, technical, and on-site research, preparing measured drawings, supervising and coordinating work on site, and documenting on-site project activity.
Her involvement in conservation led her to pursue a Master's Degree in Historic Preservation at Columbia University. Under the supervision of notable professors, she sharpened her skills in developing sustainable designs and in identifying building materials, analyzing their modes of deterioration, and providing sensitive repairs with appropriate contemporary materials. She was appointed as the Teaching Assistant for five building materials classes and worked alongside the professors to ensure smooth running of the classes. In spring 2016, she received a scholarship to present her research on historic methods for mixing mortar at ANAGPIC 2016, hosted by Harvard University Arts Museum.

In the summer of 2015, Raudhah completed an internship with the Historic Royal Palaces in London, where she worked on the 16th-century Banqueting House. She was tasked with documenting the on-site work progress and she received hands-on training and workshops from experienced masons.