PROJECTS
Conservation
Oak Bridge, Central Park
New York NY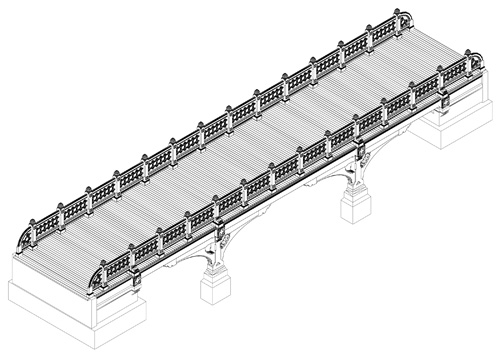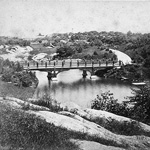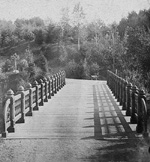 Designed by Calvert Vaux, Oak Bridge was constructed in 1860 across a narrow arm of the Central Park Lake at its northernmost tip to provide a connection from the path along the West Drive into the Ramble. Also referred to as Bank Rock Bridge, it was one of the larger and more elegant of the Park's wooden bridges, constructed of carved white oak with panels of decorative cast iron set in the railings and a deck of yellow pine.
With the exception of its stone abutments, the original bridge did not survive long. Deterioration of the woodwork, which had been replaced in 1872, continued to be a problem through the early decades of the twentieth century, requiring reconstruction and repair on several occasions. It was replaced in the early 1930s by a nondescript bridge of ordinary wood planks and iron pipe railing.
In an effort to restore the historic architectural character of this part of Central Park, the Central Park Conservancy hired JHPA to investigate the possibilities for reconstructing a replica of Oak Bridge based on the original drawing and historic photographs. JHPA performed exhaustive research into the types of materials that would allow a faithful reconstruction while also lasting much longer than the original wooden bridge.