PROJECTS
Master Planning
New York State Capitol
Albany NY, 1994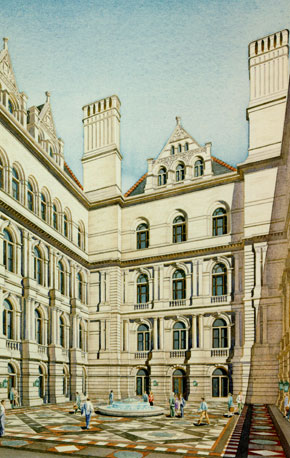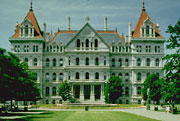 The New York State Capitol is an eclectic blend of Empire, Romanesque and French Renaissance styles. A succession of well-known architects, beginning with Thomas Fuller and including Olmsted, Richardson, and Eidlitz, designed the building during the last quarter of the 19th century.
The Capitol's facilities had become strained by the increasing demands of a large state government. The state's Commission on the Restoration of the Capitol selected JHPA to prepare a feasibility study to improve the use of the first floor and basement. These areas are composed of a complex network of over 100,000 sq. ft. of office space, public rooms, service and mechanical facilities. JHPA's design for the first floor reclaims the central courtyard as the architectural and ceremonial centerpiece of the building. Reorganization of the basement eases the passage from the Capitol to the neighboring Empire State Plaza complex. The new design also provides for additional office and service functions.
Coordinating a team of structural, mechanical and electrical engineers, JHPA developed a plan that greatly increases the building's usable space. Our scheme restores the intent of the Capitol's original design and creates functional, contemporary spaces in harmony with the original architecture.