PROJECTS
Restoration
New Jersey State House Dome
Trenton NJ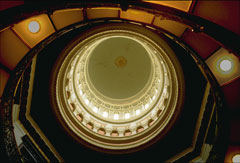 The New Jersey State House was originally constructed in 1792. Many alterations to the building had been made since 1792 due to expanding State House operations and a devastating fire in 1885. The existing eighty-foot-high rotunda and dome replaced an arcaded cupola that was destroyed in that fire.
With the exterior gold leaf of the dome in disrepair, the State's Department of General Services commissioned JHPA to investigate the condition of the dome and to make repair recommendations. The investigation revealed serious deterioration of cast iron in the rotunda and structural steel supports for the dome.
JHPA prepared construction documents for cast iron and steel repairs as well as replacement of copper sheathing, exterior and interior gilding, interior finishes and stained glass restoration, interior and exterior lighting, decorative painting and cove plaster restoration.