PROJECTS
Conservation
Kress Foundation
New York NY, 1984-86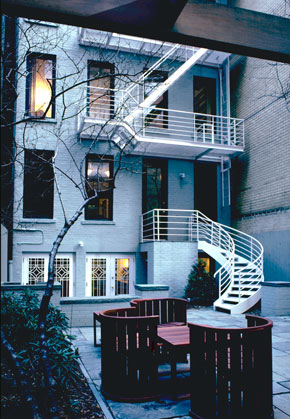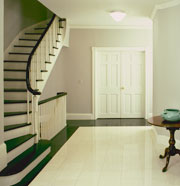 The Samuel H. Kress Foundation, a non-profit educational organization, selected JHPA to convert a residential town house on Manhattan's Upper East Side into corporate offices for the Foundation and two other non-profit tenants.
The building had once served as a dormitory and was comprised of many dimly-lit rooms. The Foundation requested that their new offices combine efficient and flexible work spaces with the feeling of a private home. JHPA redesigned all floors to provide open areas of circulation and spacious, library-like private offices. In addition, all electrical and mechanical systems were completely updated.
The rear yard, conceived as a reception garden, is linked visually and physically to the main floor of the house by an elegant curved staircase and terrace. Rehabilitation of the street facade included changes to first-floor openings, the design of a new understated formal entrance portico, and the removal of unsightly air-conditioning sleeves.
The renovated Kress Foundation building is a handsome and harmonious complement to its residential neighbors. The project reflects the firm's commitment to blending contextual design with close attention to the client's programmatic needs.