PROJECTS
Conservation
Cosy Cottage
Hudson NY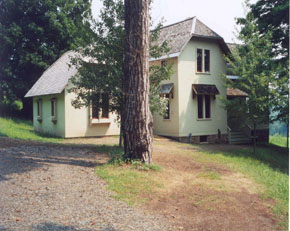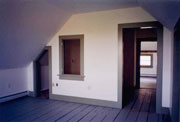 Cosy Cottage, a National Historic Landmark, was built in 1861 after a design by Richard Morris Hunt for the family of Frederic Edwin Church. Church would later build his grand house, Olana, at the top of the hill above Cosy Cottage, but for ten years he and his family resided in the Cottage.
After falling into disrepair, the west bedroom wing and north kitchen wing of the Cottage were lost, and the interior gutted down to the studs. Using historic photographs, some meager evidence on the interior, and a Historic Structure Report prepared by the State of New York, JHPA designed a reconstruction and adaptive use of the Cottage to bring it back to its 1860s form.
Once a domestic structure without electricity or running water, the Cottage was retrofit with a hydronic heating system, electricity, phone and data communication suitable for its new use as an office for The Olana Partnership. Original wood floors, doors and window sash were restored, and the structure shored as necessary to accommodate its new use. New interior lighting is minimal and unobtrusive, in keeping with the spartan feel of the original structure.