PROJECTS
Conditions Surveying
Brooklyn Historical Society
Brooklyn NY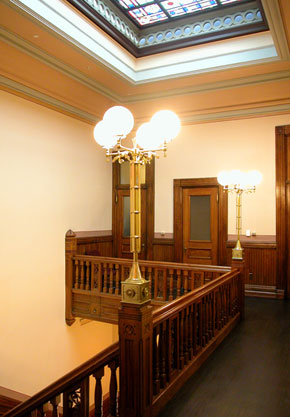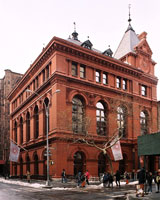 In 1881, George B. Post designed an architecturally and technologically innovative building for the Long Island Historical Society, now the Brooklyn Historical Society. The building's exterior construction represents one of the first substantial uses of architectural terra-cotta in the United States. The interior contains a five-story lobby/staircase topped by a glass skylight, a double- height library and a novel roof truss system. Both the exterior and interior are designated New York City landmarks.
JHPA provided the Society with a full range of services, including a master plan for interior restoration and rehabilitation, an Historic Structure Report, an exterior conditions survey, and construction documents for the installation of a new HVAC system. Our work has included an interpretive restoration of the original ground floor auditorium, which now serves as the Shellens Gallery of Brooklyn History. Our firm also restored the lobby and provided space for a new classroom/lecture hall. In 2004 JHPA completed exterior and interior restoration work throughout the building as well as the adaptive reuse of the cellar as a "History Discovery" center with multi-purpose classrooms.
The carefully phased restoration provided the Brooklyn Historical Society with a way to manage renovation costs and helped to ensure that the building continues to meet the Society's needs.