PROJECTS
Restoration
Battery Maritime Building
New York NY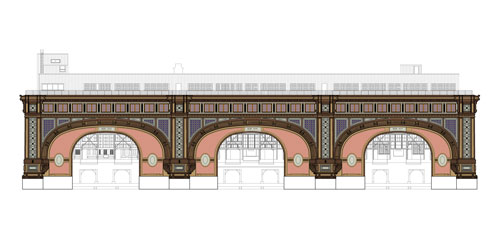 Designed by the firm Walker and Morris in a Beaux-Arts style, the landmarked Battery Maritime Building was originally paired with a twin, the Whitehall Terminal of the Staten Island Ferry. Completed in 1909, the building possesses an intriguing composition of architectural metals, including cast iron, rolled steel, and stamped zinc and copper. One of the building's feature elements included a stained-glass laylight in the Main Concourse, which has since been roofed over.
The under-utilized ferry terminal had suffered severe deterioration due to a lack of maintenance and loss of significant architectural features during a 1957 alteration and addition.
Initially charged with preparing a comprehensive Exterior and Structural Conditions Survey, JHPA was subsequently hired by the New York Economic Development Corporation to complete a full restoration of the building's exterior envelope, including the roof. JHPA directed a team of consultants dealing with a wide scope of issues, from structural reconstruction, cast iron and sheet metal replication, underwater structural investigation, to complete disassembly and reassembly of the building's complex facades.